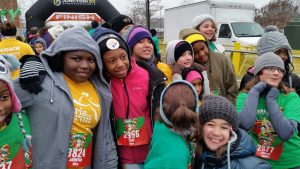 Girls on the Run is an international non-profit that provides a safe and interactive way for girls in grades 3-5 and 6-8 to learn abouthealthy living and gain confidence. The program includes a curriculum designed to address important topics such as goal-setting, cooperation, healthy decision-making, and self-respect, while creatively integrating running to train for a 5K event.
Girls on the Run Triad serves Davidson, Forsyth, Alamance, Guilford, Randolph, and Rockingham counties and is currently training 10 teams of girls! On Saturday, May 6, 2017, they will be celebrating the end of the spring season with their first stand-alone celebratory 5k at Country Park in Greensboro! Over 110 girls across the Triad who have participated this season will come together to complete a non-competitive 5k. This culminating event of the season gives girls the opportunity to celebrate their accomplishments, experience a tangible sense of achievement, and see a goal become reality. Each girl will be paired with a "running buddy" to accompany her along the way and friends, family, and coaches will be on hand to cheer the girls to the finish line. Community members are invited to join this fun and empowering event. Not a girl? That's ok! Not a runner! That's ok too! All are invited to run or run/walk in this race. This event is family friendly! In addition to the 5k there will be a 1-mile fun run for little ones.
Registration is open now at https://www.gotrtriad.org/5K and includes a t-shirt, finishers reward, food, a race packet full of goodies, and the Fleet Feet Kid's Fun Zone. Fun Zone activities include a bounce house and stations for face painting, Happy Hair (colored hair spray), bib decoration, and a photo booth. Register today to run and celebrate the hard work the girls have put in this Spring season! The Girls on the Run Triad 5k is proudly sponsored by Valic, Green Valley OB/GYN, Junction 311, Fleet Feet of Greensboro and High Point, Dr. Mark Katz Orthodontics, Hannah Asphalt, and Edward Jones-Rick Dutch.