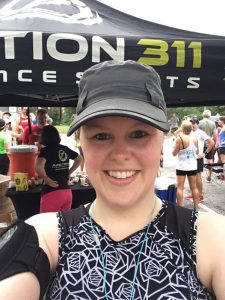 Since 2014, I have been involved with the Tuxedo Trot 5K at the Greensboro Science Center where I work as the Volunteer Coordinator.  I've been the Race Director since 2015.  Our goal is to host a race that caters to beginning runners and families.  Each year, I was so proud to help others achieve goals they'd set for themselves—yet I was still too intimidated to try it myself.
Fast forward to race planning for the 2016 Tuxedo Trot.  I approached the Spears YMCA about putting together a Couch to 5K style training program for the Tuxedo Trot.  They accepted.  Nikki Popovich–fitness wonder, wonder woman, wonder mom, and Junction 311 employee in addition to her gig at Spears–happily agreed to serve as one of the coaches.  I signed on to train with the group, thinking it would be a great way to plug the Tuxedo Trot.  I didn't know how much it would literally change my life.
It's now 2017.  With Nikki's constant encouragement, I've completed 13 races in 10 months:  nine 5Ks, one 10K, one 10 Miler, one Half Marathon, and one Full Marathon Relay.  I am planning to run a Full Marathon this year.
Why so many races? I realized I am the type of person who needs to always be training for something.  Otherwise I'll "fall off the wagon" because I have always been a quitter.  Having the next race ahead of me keeps me going.  I tell people what I'm training for and I fork over money to register so I can't back out!  There are still plenty of times when I would rather sleep in than wake up early on a Saturday for a long run.  I still hate running in the cold or the rain.  I do skip runs because I make excuses.  Yet I haven't quit.
The people I've met through running are so encouraging. I love working with Junction 311.  Their races, like the Freedom Run 10K or the recent Massacre Marathon, are so well executed and fun.  I never thought I would say running hills with my teammates for four hours would be "fun."  But it was!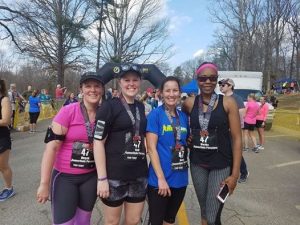 RunnerDude Thad McLaurin has also been great to work with.  He, the Dudes, and Dudettes welcomed me into their world in June for a fun run on Global Running Day. They encouraged me to join them on a group run where I later ran 5 miles for the first time. Inspired, I ran 10 miles with them during a RunTheBoro run over the summer. That was when I realized a half marathon was actually possible for me.
I've collected my fair share of race bling over the past year, but running is about so much more than that.  I've become a more confident person through running.  I've formed great friendships with my running buddies (Becca, Lou, Megan & Martha).  I've trusted in my coaches.  I've believed in myself.  And I've conquered so much more than I ever thought possible.